Chapter 5 is the fifth chapter of the Itazura na Kiss, written by Kaoru Tada and published by Shueisha.
Summary
Plot
The second semester starts soon, and everyone should start thinking about their future. Kotoko's friends note that she and Naoki won't be together as soon as they graduate and her house reconstruction finishes since he'll surely be attending Tokyo University and she'll be attending the university that's linked to their high school. However, when she asks him about Tokyo University, he says he won't be taking its enterance exams, and when she asks him why's that, he says that doesn't concern her.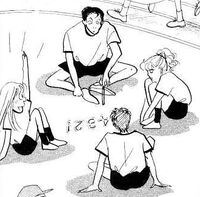 With the school sports festival coming up, Kinnosuke, Kotoko, Satomi and Konpon work hard to beat A class at the men's and women's relay, with Kinnosuke desperately trying to spend more time with Kotoko to the point of dropping the baton purposely for more than a few times.
That night, Kotoko ends up falling asleep at her desk and wakes up to get herself some coffee to make her stay up so she can study. She runs into Naoki who's also going for a coffee and offers to make her one as well. As Naoki prepares them coffee he notices that Noriko, Shigeki and Shigeo still aren't sleeping and are talking in the living room. He and Kotoko decide to eavesdrop on their parents and overhear that they're planning how their future house will look like. Upset because of what they just heard, Naoki and Kotoko barge into the living room, demanding on an explanation of what their parents were talking about a minute ago. He then rips the paper on which Shigeki was drawing the plan of their future house and leaves the room.
Later at the school sports festival, Kinnosuke succeeds in beating Naoki in the 100 meters race, however, Kotoko looses being the last one in the girls' borrowing contest, borrowing Shigeki instead of Naoki, considering the fact that she had to borrow the "guy she likes". In the second event Kotoko's participating in, Kotoko and Naoki end up competing against each other in the relay race. When it's Kotoko's turn to give Kinnosuke the baton, she acidentally gives it to Naoki insted, embarrassing herself infront of everyone at the sports festival. Naoki takes the lead in the race then and just as he sprints across the finish line, Kotoko gets pushed and falls in front of him and she gets run over. Kinnosuke steams past the finishing line as Naoki carries Kotoko to the infirmary, and Shigeo records everything.
Characters