Itazura na Kiss: Love in Tokyo
Native Title
イタズラなKiss〜Love in TOKYO
Staff Information
Director
Koto Nagata
Abe Masakazu
Kawano Koji
Producer
Moriya Takeshi
Writer
Uiko Miura
Music by
Toda Irone
Airing
Network
Fuji TV TWO
Original Run
March 29, 2013 – July 19, 2013
Episodes
16 (List of episodes)
Chronology
Followed by
Itazura na Kiss 2: Love in Tokyo

Itazura na Kiss: Love in Tokyo (イタズラなKiss〜Love in TOKYO Itazura na Kiss〜Love in TOKYO) is the fifth drama adaptation of the manga series Itazura na Kiss written by Kaoru Tada. The drama starred Honoka Miki as Kotoko Aihara and Yuki Furukawa as Naoki Irie. It was produced by Moriya Takeshi and was directed by Koto Nagata, Abe Masakazu and Kawano Koji. The drama was broadcasted on Fuji TV from March 29, 2013 to July 19, 2013 and it has 16 episodes in total.
Plot
At a high school entrance ceremony, high school student Kotoko Aihara, who isn't that smart, notices pretty boy Naoki Irie. She falls in love with him immediately. Kotoko initially doesn't express her feelings to him, but finally has a chance to tell him how she feels. Unfortunately, Naoki turns Kotoko down, saying "I don't like dumb women." One day, Kotoko Aihara's house is severely damaged by a meteorite. Until the house is rebuilt, Kotoko Aihara and her father decide to live with her father's friend. When Kotoko Aihara moves to her new temporary house, she is surprised to learn that Naoki Irie lives there as well.

Cast
Kisuke Iida as Kanamori (3/16)
Shin Imazato as Omura (2/16)
Arata Saeki as Yokoyama (2/16)
Takahiro Tsutsumi as Cafe Manager (1/16)
Aiko Sato as Aiko Irie (1/16)
Takashi Kashiwabara as Doctor (1/16)
Trailer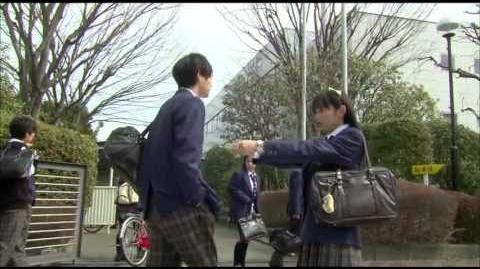 Gallery
Main article: Itazura na Kiss: Love in TOKYO/Image Gallery
External links